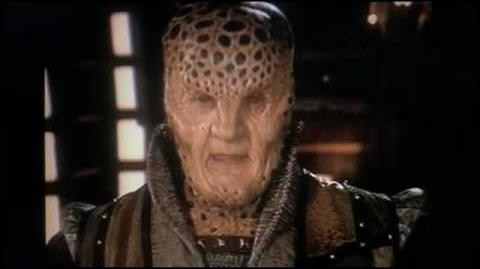 Andreas Katsulas (18 May 1946 - 13 February 2006) played G'Kar on Babylon 5 and the spinoff The Legend of the Rangers.
Katsulas is recognized as the murderous one-armed man in the 1993 thriller The Fugitive. He is also known for playing the recurring character of Romulan Commander Tomalak on Star Trek: The Next Generation. He had a small role in the hit Kurt Russell film Executive Decision.
He appeared in the Alien Nation episode "The Game" with Maggie Egan.
A lifelong smoker, Katsulas was diagnosed with lung cancer in early 2005. He passed away on February 13, 2006, at the age of 59.
Ad blocker interference detected!
Wikia is a free-to-use site that makes money from advertising. We have a modified experience for viewers using ad blockers

Wikia is not accessible if you've made further modifications. Remove the custom ad blocker rule(s) and the page will load as expected.