Bryan Michael McGuire is an actor.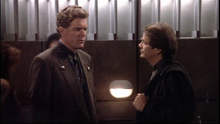 In Soul Mates he portrayed a passenger that disembarked onto the station and was repeatedly upset during the flight by empath Matthew Stoner. The man may have been boarding the station to begin his assignment as a security officer (as seen in later episodes) or returning from vacation to resume his security work.
In Hunter, Prey he and Zack Allan were searching for Dr. Everett Jacobs; upsetting the Lurkers while checking out their faces.
Babylon 5 TV Series
Edit
External Link
Edit
Ad blocker interference detected!
Wikia is a free-to-use site that makes money from advertising. We have a modified experience for viewers using ad blockers

Wikia is not accessible if you've made further modifications. Remove the custom ad blocker rule(s) and the page will load as expected.