The EAS Persephone was an Omega class destroyer.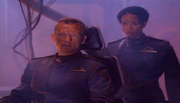 In 2267, the Persephone pursued an escaping Drakh ship that had retreated from the attack on Earth following the destruction of the Death Cloud and the deployment of the Drakh plague. The Persephone was able to shoot down the Drakh ship, forcing it to crash on Ceti IV, but took heavy damage in the process and was itself destroyed. Before the ships reactors went critical, the Persephone was able to launch its distress beacon, informing Earthforce of the location of the downed cruiser, which lead to the capture of the Drakh Counselor L'shan by the crew of the Excalibur.[1]
References
Edit
Ad blocker interference detected!
Wikia is a free-to-use site that makes money from advertising. We have a modified experience for viewers using ad blockers

Wikia is not accessible if you've made further modifications. Remove the custom ad blocker rule(s) and the page will load as expected.