"

"Yeah, this place should be on all the chartered tours--'see and experience the real Babylon 5.'"


– Garibaldi, 2258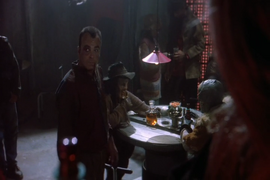 The Happy Daze Bar was located in the Brown Sector of Babylon 5.
In 2258, Michael Garibaldi hid there when he was on the run from Lianna Kemmer after being framed. He "crawled back into the bottle" while hiding there.[1]
References
Edit
Ad blocker interference detected!
Wikia is a free-to-use site that makes money from advertising. We have a modified experience for viewers using ad blockers

Wikia is not accessible if you've made further modifications. Remove the custom ad blocker rule(s) and the page will load as expected.