Juan A. Riojas (John Riojas) is an actor.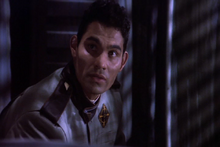 In the episode he responded to Warrant Officer Jack's call for backup after Jack had taken down Devereaux and his men. Juan's character observed that the PPG was cold, and commented that if it had been fired recently it would have still been hot. After Jack confronted him, Juan's character backed down and said that it is well known that they cool down fast in Downbelow.
Appearance
Edit
Babylon 5 TV Series
Edit
External Link
Edit
Ad blocker interference detected!
Wikia is a free-to-use site that makes money from advertising. We have a modified experience for viewers using ad blockers

Wikia is not accessible if you've made further modifications. Remove the custom ad blocker rule(s) and the page will load as expected.