Liz Burnette is an actress.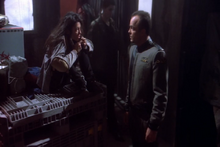 In the episode she played a lurker that was present when Michael Garibaldi began his investigation into the death of Stephen Petrov. She was disdainful of the security officer and criticized him for only having concern for the welfare of lurkers when "one of your weasels" is involved. She obviously realized that Petrov had been an informant for Garibaldi.
External Link
Edit
Ad blocker interference detected!
Wikia is a free-to-use site that makes money from advertising. We have a modified experience for viewers using ad blockers

Wikia is not accessible if you've made further modifications. Remove the custom ad blocker rule(s) and the page will load as expected.