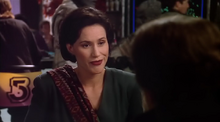 Natalie Brunt is an actress.
In the episode she interviewed Brother Edward as a representative of the Trappist Order to perform data transfers for the company she worked for. Once she was convinced that their work would be a quality service she agreed to have a contract drawn up, granting the monks a deal. After the interview ended she noticed that a black rose fell from Edward's bag and suspected that he had a secret admirer.
Babylon 5 TV Series
Edit
External Links
Edit
Ad blocker interference detected!
Wikia is a free-to-use site that makes money from advertising. We have a modified experience for viewers using ad blockers

Wikia is not accessible if you've made further modifications. Remove the custom ad blocker rule(s) and the page will load as expected.