D. Paul Yeuell is an actor from Andover, Massachusettes and graduated from Stanford University.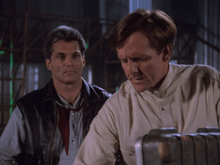 In the episode his character inspected crates brought aboard the station by Vance Hendricks and Nelson Drake. He observed that one of the boxes had a 4" difference between the interior and exterior bottom arousing suspicion of a false bottom. Drake used a stun gun long enough that it killed the officer.
Appearances
Edit
Featuring, Infection, (16 February 1994) - Customs Guard
External Link
Edit
Ad blocker interference detected!
Wikia is a free-to-use site that makes money from advertising. We have a modified experience for viewers using ad blockers

Wikia is not accessible if you've made further modifications. Remove the custom ad blocker rule(s) and the page will load as expected.