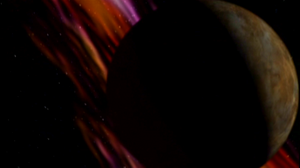 The Proxima system, located in Sector 5 is the closest star to the Sol System and home to an Earth Alliance colony on Proxima III.[1] There are at least seven planets in the system.[2]
Notable Locations
Edit
Proxima I
Proxima II
Proxima IV
Proxima V
Proxima VI
Proxima VII
Behind the Scenes
Edit
In reality this is Proxima Centauri[3] and is part of the Alpha Centauri[4] system. Proxima Centauri is 4.2421 light years from Earth's sun in the constellation of Centaurus.[5] It is a red dwarf star[6] and was discovered in 1915.[7]
References
Edit
Ad blocker interference detected!
Wikia is a free-to-use site that makes money from advertising. We have a modified experience for viewers using ad blockers

Wikia is not accessible if you've made further modifications. Remove the custom ad blocker rule(s) and the page will load as expected.