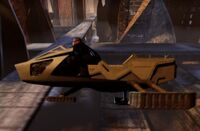 The Skimmer is a type of piloted atmospheric hovercraft vehicle used for civilian transport as well as off-world expeditions.[1][2][3]
Excalibur skimmers
Edit
Earth Alliance deploys skimmers aboard their starship Excalibur for planetary missions. These skimmers are usually small, highly-maneuverable craft and can be operated by one pilot with room for one passenger and some cargo.[4]
References
Edit
Ad blocker interference detected!
Wikia is a free-to-use site that makes money from advertising. We have a modified experience for viewers using ad blockers

Wikia is not accessible if you've made further modifications. Remove the custom ad blocker rule(s) and the page will load as expected.