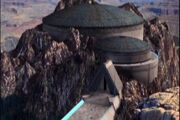 The Temple of Varenni was an ancient structure on Minbar dating from the time before Valen.[1]
It was the place where leaders were chosen when the castes fought for dominance over the others. The two opposing leaders would walk into the Starfire Wheel and whomever would remain, sacrificing their life would earn the right for their caste to lead.
After Valen formed the Grey Council and established a lasting balance in Minbari society, Varenni was little more than a relic, though like many ancient places on Minbar it was carefully preserved through the centuries. In 2261, The Starfire Wheel was used again at the conclusion of the Minbari Civil War, with the sacrifice of Alyt Neroon and lead to the reformation of the Grey Council.
References
Edit
Ad blocker interference detected!
Wikia is a free-to-use site that makes money from advertising. We have a modified experience for viewers using ad blockers

Wikia is not accessible if you've made further modifications. Remove the custom ad blocker rule(s) and the page will load as expected.