Triluminary
Talk

0
2,836pages on
this wiki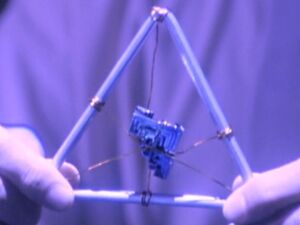 A Triluminary was a triangular artifact with religious significance used by the Minbari Grey Council. They were given to the Grey Council by Valen and were programmed to respond to Valen's DNA by glowing. [1]There were three triluminaries in existence. These devices seem to have multiple functions but the full extent of their abilities has never been disclosed. [2]
A triluminary is used in the ceremony to induct a new member of the Grey Council. [3][1]
During the Battle of the Line, Jeffrey Sinclair was captured by the Minbari and interrogated by the Grey Council. During this interrogation, a triluminary was used to probe Sinclair, and glowed brightly. To the Grey Council, this indicated that Sinclair had Valen's Minbari soul. Whether or not the council truly understood that the device was reading Sinclair's DNA and not his soul and as such that Sinclair and Valen were the same person is unclear. [4][3] Seizing upon this information, Delenn pointed out that Minbari do not kill other Minbari, the Grey Council called the Minbari fleet to surrender, ending the Earth-Minbari War. [3][5]
A Triluminary was also the key component of the device used by Delenn to transform herself into a Minbari-Human hybrid. [6] The origins of the device were revealed when Zathras brought it along with the time-jump system from Epsilon III, so that Sinclair could use it to transform into a "Minbari not born of Minbari". [7]
References
Edit