Vorlon transport
Talk

0
2,836pages on
this wiki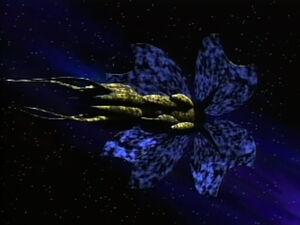 Vorlon Transport
Status:
Beyond the Rim
(as of Jan 27, 2261)
1 aboard EAS Titans
(as of Jan 21, 2262)
Affiliation:
Vorlon Empire
Class:
Transport
Length:
131m[1]
Beam:
38m[1]
Draught:
38m[1]
Crew:
1
Engines:
Gravimetric Drive
Jump Capable:
Yes
Weapons:
1 Fusion Combo Beam/Pulse Cannon[1]
Defenses:
Vorlon Defence System
The Vorlon transport was a class of ship in use by the Vorlon Empire, sometimes to transport diplomats to various locations. The transport has organic qualities, indicating the use of organic technology.
Characteristics
Edit
Ambassador Kosh's Vorlon transport arrived at Babylon 5 in 2257, and docked in Bay 9. [2] Two years later it was primarily docked in Bay 13. [3] The Ambassador used this transport to travel to and from the Vorlon homeworld. Kosh and the ship also seemed to have a partially symbiotic bond.
In 2260, the vessel docked with Babylon 5 with Lyta Alexander as a passenger.[4] When Kosh died, the transport set course for the nearest Epsilon Eridani sun, where it supposedly met its end. [5]
Replacement Ambassador Ulkesh also made use of a Vorlon transport. [6]
Known Ships
Edit
Behind the Scenes
Edit
The ship was designed by Foundation Imaging Co-Founder Ron Thornton. [7] Vorlon Transport was one of the earliest models designed for the show.
Appearances
Edit
TV/DVD Movies
Babylon 5
References
Edit